Scottish Borders Council hopes to have reduced top earners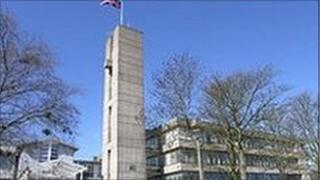 Scottish Borders Council hopes to have cut the number of its staff earning more than £50,000-a-year by about 13% in the space of two years.
The number of employees earning above that threshold peaked at 109 in the financial year 2011/12.
The authority said it estimated that figure would fall to 94 during this financial year.
However, that is still more than double the number of staff receiving wages of more than £50,000-a-year in 2006/07.
SBC agreed the early retirement of five senior council staff this week in a move designed to save more than £500,000-a-year.
A spokesman said that should see the number of staff earning £50,000 or above fall from its current level of 98.
"Based on information known to date, it is anticipated that there will be 94 individuals who have remuneration in excess of £50,000 during the financial year 2013/14," he said.
"It has to be stressed that this is an estimate, particularly in relation to teachers where the pay increase, effective from 1 April 2013, is still under negotiation."
He added that proposed changes to terms and conditions of service were still under negotiation with trades unions and, if agreed, would not be implemented until the 2014/15 financial year.
Historically, the number of staff on top salaries rose steadily between 2003 and 2009 but leapt by more than 50% - from 62 to 97 - the following year.
"Between 2008/09 and 2009/10 there was an increase of 35 in the number of individuals who had remuneration in excess of £50,000," said the spokesman.
"This is attributable, in the main, to increases in salary levels for 25 teachers between the two years."
He said the rest of the rise was due to the implementation of the single status agreement to address historic pay inequalities.
The spokesman said the proposed changes to the senior management structure at the council would see a reduction in the number of individuals in "higher remuneration bands" in coming years.
"However, it has to be recognised that salary levels, through the application of pay awards, will see additional individuals have remuneration in excess of £50,000," he added.
He said that between 1 April 2011 and 31 March this year the council had maintained a blanket freeze on pay inflation and incremental progressions which had cut operating costs by £4.3m.
Nonetheless, the authority still pays its top earners more than double the amount it did seven years ago.