Teacher Eppie Sprung Dawson struck off after sex with pupil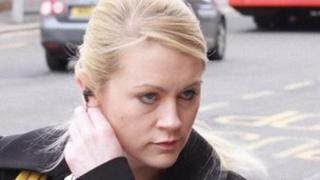 A Dumfries teacher who breached a position of trust by having sex with a pupil has been removed from her profession's register.
Eppie Sprung Dawson waived her right to a full General Teaching Council for Scotland hearing.
The former St Joseph's College teacher was convicting of having sex with a teenage student earlier this year.
She was given a community payback order and placed on the sex offenders register.
Police found the teacher and pupil - both partially undressed - in a car in a layby near Dumfries in December last year.
She was 26 at the time, the boy 17, so the relationship was not in itself illegal.
However, the teacher was charged with an abuse of trust which she admitted in court in March.
She has now been taken off the teaching register after telling GTC Scotland that she "freely and willingly" consented to being removed from the list.
Dawson cannot apply for re-registration for a minimum of two years.
The GTC Scotland also agreed to refer the case to Scottish ministers to decide if she should be barred outright from working with children.
It considered the action necessary in that Dawson had engaged in "inappropriate conduct of a sexual nature involving a child".
Dawson now lives with her former pupil.