Annan Spar robber Peter Boyd posted plans on Facebook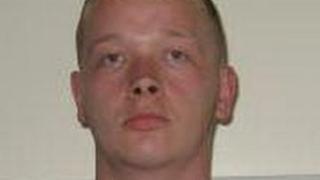 A court has heard how a robber draped in a Union Jack put two shopworkers through a three-hour ordeal after posting his plans on Facebook.
Peter Boyd, 27, admitted a charge of abduction and robbery at the Annan Spar store in August.
He sparked a major incident with a firearms unit and a police negotiator called out to the shop.
At the High Court in Glasgow, Boyd was remanded in custody and sentence was deferred until the new year.
The court was told how he put a number of messages on Facebook about his plans.
One read: "Right, see you all later - am away to hold a shop hostage. I won't be able to reply."
Boyd - draped in a flag and armed with two knives - targeted the Spar shop at about 16:50 on 10 August this year.
He ordered workers Carole Patterson and Casey Donaldson to close the shutters and lock the doors.
A customer was also ordered out - but Ms Patterson whispered to him to call the police before he left.
Officers arrived and the area was cordoned off.
A firearms team and police negotiator were also sent for.
Meanwhile, Boyd, who lived near the shop, ordered the women onto the floor.
Prosecutor Murdoch MacTaggart told the court: "He informed them that the reason why he was doing this was to protest against Catholics marching through a Protestant area of Belfast the previous night."
Boyd then demanded the CCTV be switched off and said the doors should be barricaded with trolleys and bread baskets.
Surrendered himself
Mr MacTaggart added: "He told them that if the police came in he would have to put a knife to one of their necks."
The advocate depute also told how Boyd seemed "pleased" by the large number of police officers who had responded to the robbery.
Later that night, the police negotiator telephoned the shop to speak to Boyd.
While he was on the call at about 19:20, shop worker Ms Patterson grabbed the knives he had left on the floor before she and Ms Donaldson fled the store.
It was another hour before Boyd finally surrendered himself to officers.
The court heard how the two women were left "very frightened" after their ordeal, but were fortunately found to be uninjured.