Gas plea after Gelston family flee canister explosion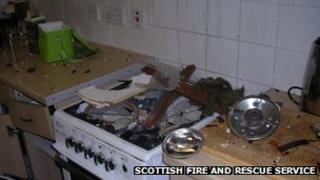 Fire chiefs have urged the public to take extra care during power cuts after a family escaped unhurt from a gas canister explosion in their flat.
It follows an incident in the village of Gelston near Castle Douglas on Thursday night.
Thousands of properties in the region were left without power during severe storms across Scotland.
The family was using a small camping stove to finish cooking a meal when it overheated and exploded.
The Scottish Fire and Rescue Service said the two adults and a small child had been lucky not to be injured.
Station Manager Joe Shepherd said: "Firefighters found a small camping gas canister that had exploded in the property, which had caused damage to the kitchen, living room and a bedroom.
"There was no sign of fire but the explosion had brought down plasterboard from the ceiling, damaged an internal wall and dislodged some roof tiles.
"Our crews inspected the property to ensure it was safe and removed the loose roof tiles to prevent further damage."
'Potential dangers'
After a power cut left the family unable to use their kitchen appliances, the camping stove was placed on top of the cooker and used to finish cooking the meal.
However, with a ring on the cooker still switched on, the restoration of power to the property caused the gas canister to overheat and explode.
Mr Shepherd added: "As we get into winter, severe weather events can see homes lose power, with people tempted to use alternative heating and cooking facilities.
"It is vital everyone is aware of the potential dangers and takes steps to ensure they remain safe from fire.
"If you have a power cut please ensure that you switch off any household appliances that may cause damage when the power is switched back on."
He also urged anyone using alternative lighting, heating or cooking items to ensure that they were kept away from combustible materials and never left unattended.