Facebook fight over Borders General Hospital parking fines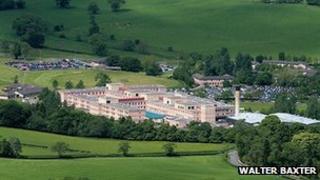 A Facebook page has been set up to oppose new parking regulations at Borders General Hospital.
It has attracted almost 1,000 likes in its first week. Some are angry over fines, introduced last Monday, for vehicles overstaying a four-hour limit.
Among the first people to be ticketed were community nurses and Macmillan Cancer Support staff.
NHS Borders chief executive Calum Campbell said patient feedback on the system had been "tremendous".
The Facebook campaign wants the health authority to end the new system and create a new overflow car park.
However, Mr Campbell said it had actually addressed long-standing problems.
"Up until now there have been problems letting patients in and getting them close access to the hospital - especially the disabled," he said.
"These changes have remedied that but the staff are finding the changes quite difficult to handle."
He said there had previously been complaints from people trying to get to outpatients appointments and visiting relatives and friends in the hospital.
Among the other issues were cars parked inappropriately and blocking ambulances and buses.
"We had to do something about that," said Mr Campbell.