Borders to Edinburgh railway: A7 impact discussed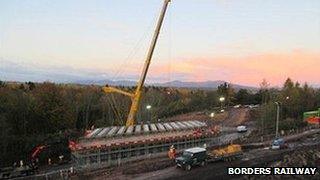 Borders MP Michael Moore is to meet Network Rail and contractors to discuss road conditions on the A7.
It follows concerns about the impact on the route as a result of its heavy use by construction traffic for the Borders to Edinburgh rail route.
Mr Moore said local residents and everyone using the road understood the project was a "really huge challenge".
Network Rail has said it will do everything it can to alleviate any problems during construction.
Vehicle washing facilities have been introduced at five locations - with jet washers and wheel cleaning facilities - and the number of road sweepers increased.
However, Mr Moore said he wanted to see for himself what action was being taken.
"We have got to make sure that everything they are doing to prevent mud getting on the roads and to clean it up afterwards is at the very top notch level," he said.
"I am afraid that people in recent weeks don't believe it has been.
"New measures have been introduced - I want to see them and I want to make sure that this is a safe road for people to travel."
Work should be completed on the Borders to Edinburgh railway by 2015.