Hawick drug and goods dealer Colin Richardson's cash confiscated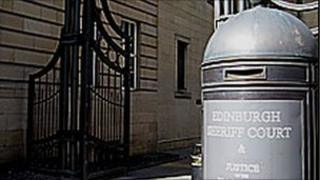 A Hawick man who admitted dealing in counterfeit goods and cannabis has been ordered to surrender £25,000 under proceeds of crime legislation.
Edinburgh Sheriff Court heard how officers searched 38-year-old Colin Richardson's home in May 2011.
They recovered herbal cannabis with a street value of £2,500 and tobacco and alcohol products on which more than £13,000 of duty had been evaded.
They also found other counterfeit goods including clothing and footwear.
Nearly £12,500 in cash was also recovered from the property.
Richardson was sentenced to a 270-hour community payback order for the offences. Now he has been order to surrender £25,000 as well.
Lindsey Miller, head of the serious and organised crime division, said: "Counterfeit goods undermine legitimate businesses, and cheat our economy of the tax revenue that would be raised by their legal sale.
"We will continue to do all in our power to bring those who seek to make a quick profit in this way to justice, and to reclaim the money that they have made.
"In this case, we have secured a confiscation order for £25,000, which represents the total of Richardson's assets available to us."