Kirkcudbright man Robert Falconbridge jailed over child pornography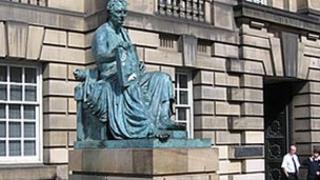 A man who used his 72-year-old mother's computer to trawl the internet for indecent images of young boys has been jailed for five years.
Robert Falconbridge, 44, from Kirkcudbright, downloaded the pictures at his own home and his mother's house in Dalbeattie.
He committed the offences between August 2011 and August this year.
Defence advocate Simon Gilbride said "isolation and alcohol misuse" had played a part in the crimes.
A court previously heard how Falconbridge's mother spent a night in the cells after police seized electronic equipment from her home.
The next day she handed over another laptop and computer which her son had been using.
However, the High Court in Edinburgh heard that she had forgiven him and was now visiting Falconbridge in jail.
A judge was told that the former greenkeeper already had a record for indecent assault and downloading child pornography.
Falconbridge admitted downloading the indecent photos and also sharing some of the material.
Judge Lord Doherty was told that experts who examined the computer equipment found a total of 11,367 still images and 280 video clips, although most had already been deleted.
Many of the images were at the most serious end of the scale showing adults having sex with young boys and some included sadistic content.
"The user of these devices has an unhealthy interest in young prepubescent boys and teenagers," said a report.
Mr Gilbride said alcohol and loneliness had contributed to Falconbridge's offences.
"He trawled the internet for explicit images for up to two or three hours a night," he said.
The lawyer said Falconbridge was a determined and intelligent man who wanted to put an end to this type of offending.
The court heard that in 2004 he had been jailed for three years for a sex attack on a teenage boy seven years earlier and for distributing indecent photos of children.
Lord Doherty made an order keeping Falconbridge under supervision for five years after the end of his prison sentence.