Kingsland Primary road action taken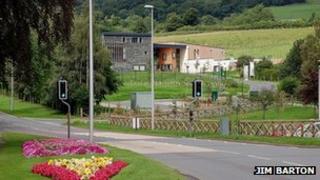 Road improvements are planned outside a Borders primary following a parental campaign for safety measures.
Nearly 1,000 people signed a petition seeking action to improve the situation outside Kingsland Primary in Peebles.
A review by Scottish Borders Council outlined several options, including a new access and ramp.
However, councillors called for "rumble strips", designed to slow cars down, to be installed on the A72 next to the school gates ahead of any other action.
The campaign for action followed a "near miss" outside the school.
Lib Dem councillor Catriona Bhatia said it was time something was done to address parental concerns.
"There are a number of proposals which will be taken back to the parent council to discuss in greater detail," she said.
"They are more costly items and they require some engineering whereas the rumble strips can be put in fairly quickly and within existing budgets.
"There may be other measures in future but this is an easy one that we can get in and hopefully put in to protect the children that use Kingsland Primary."