Edinburgh Woollen Mill profits rise after Peacocks deal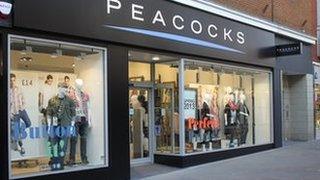 Langholm-based clothing retailer Edinburgh Woollen Mill has seen its profits rise sharply after buying the Peacocks chain out of administration.
Latest accounts for the year ending March 2013 show turnover up by more than 130% to £566.7m.
Operating profit has risen to £58.5m compared with £20.6m the previous year.
Steve Simpson, group commercial director, said UK retail remained a "tough environment" but EWM hoped to continue its "sustainable growth".
Cardiff-based Peacocks went into administration in January 2012 and was bought over the following month.
EWM said it had invested £80m in "refocusing the brand", developing online sales, refitting key stores and "enhancing its overseas presence".
Mr Simpson said: "We've worked hard to maintain strong cost controls whilst investing in our people, our products and ensuring we have the optimal blend of physical and digital channels to suit our customer demographics.
"UK retail remains a tough environment and we are focused on serving customers who are seeking value at a time of reduced discretionary spend but who will not compromise on quality.
"The group is free of debt so we can leverage a positive balance sheet and focus on a sensible strategy which continues to deliver sustainable growth for the long term."
He said the "natural next step" was to take this approach to "robust international markets such as Germany, the Middle East and Russia".