Dumfries 'super school' bid to be dropped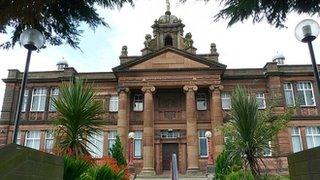 Plans for a "super school" serving all students in Dumfries in S4 and above are set to be dropped by the council.
The move could have seen a new site created closer to higher education facilities on the Crichton Campus.
However, a new Labour/SNP ruling administration is set to replace that plan with an "emerging option".
It would see two of the town's four secondaries replaced by new buildings and the other two upgraded. A new "learning hub" would also be built.
A detailed consultation process on the "learning town" proposals was embarked upon last year when Dumfries and Galloway Council was under Conservative/SNP control.
The "super school" plan was one of the most controversial aspects of the scheme.
Labour councillors said it would now be dropped and - subject to parental support - replaced by the "radical" new option.
It would see a new Maxwelltown High School and new Dumfries High School built.
Dumfries Academy and St Joseph's College would be refurbished and all four schools would remain for S1 to S6 students.
A new "learning hub" would also be built to "support delivery of more specialist, higher academic and vocational studies".
It could be accessed by all schools.
In addition, the option would be offered to older primary schools near existing secondary schools to be re-located on the same campus as the secondary school, to take advantage of new facilities in either the new builds or refurbished secondaries.
Jeff Leaver, who chairs the education committee, said it was no secret his Labour group had had concerns over the "super school" proposal.
"The plan was dubbed a 'super school' but the reality is we actually already have four super schools in the town with high attainment levels," he said.
He described the new plans as "radical but sensible".
The council hopes to meet with Education Minister Michael Russell to discuss the plans, and also consult closely with parents.