Borders to Edinburgh rail route work 'is damaging houses'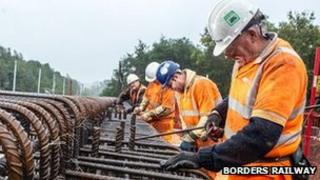 Galashiels residents claim their homes are being damaged by construction work on the Borders to Edinburgh railway.
They say 21 properties in Glenfield Road East have been affected by heavy machinery building the line nearby.
Concerns have been raised about cracks appearing in walls and radiators developing leaks.
Network Rail said it was happy to meet people in an attempt to alleviate any problems they might be suffering as a result of the works.
Some residents say they are angry that they have still not seen the results of a house condition survey carried out by BAM Nuttall - the project contractors - in August, despite promises that it would be made available within two weeks.
Resident Flo Dickson said: "We were promised the result within weeks but we are still waiting.
"We now have numerous cracks and damage to houses all along the Glenfield estate.
"We have visited the BAM Nuttall office to complain."
She said they had been promised information letters but had been disappointed by the lack of communication.
Neighbour Wilma Turnbull added: "The noise level is terrible.
"The whole house shudders when some of the big machinery is operating.
"All of us have noticed some kind of damage.
"We are trying to communicate with Network Rail and the constructors but we are constantly being fobbed off."
Local councillor Sandy Aitchison said he was due to meet project representatives to discuss the problems.
'Very stressful'
He said: "Without doubt the people of Glenfield Road East are the most affected by the railway construction process.
"I have a huge level of sympathy regarding their plight, the railway is so close to their houses and extremely obtrusive."
Craig Brown, of Network Rail, said this was "probably the most challenging part of the project for the many people living near the construction process".
"It can be very stressful but I am happy to meet with people concerned and to try to alleviate their concerns," he added.
The passenger link between the Borders and Edinburgh is due to reopen by 2015.