Dumfries hospital faces road access opposition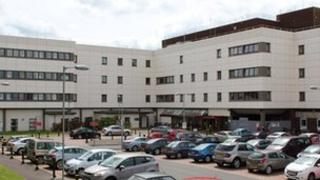 Objections have been lodged to the proposed road access layout for a new £200m general hospital in Dumfries.
NHS Dumfries and Galloway wants to build the facility on farmland at the western end of the town's bypass.
Access plans would see the Garroch Road roundabout enlarged and the Glen Road re-aligned to accommodate traffic into the grounds of the new hospital.
Planners have recommended approval but residents and Troqueer Community Council have opposed the scheme.
They say they have major concerns about removing dedicated access to the Glen.
The existing link from the roundabout currently serves more than 30 residential properties and seven businesses with a combined staff of about 120.
The list includes a farm shop which is now said to draw in about 175,000 visitors a year.
Objectors claim the proposals as they stand would cause congestion and would have serious implications for ambulance access.
They also fear that trade and employment could be affected.
They want the NHS to consider developing a five-leg roundabout which would provide a dedicated entrance and exit for hospital traffic, while preserving the existing access to the Glen.
Work on the 350-bed hospital is scheduled to begin in 2015.