Stranraer electric bus service launched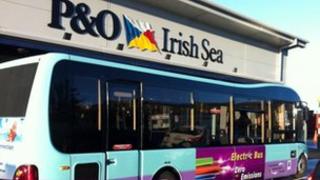 Transport Minister Keith Brown has officially launched the first fully-electric local bus service in Scotland in Wigtownshire.
It is being used to provide a link for passengers between the Irish Sea ferry terminals at Cairnryan and the railway station at Stranraer.
The vehicle cost £120,000 - jointly funded by the transport partnership SWestrans and the Scottish government.
It is run by McLeans and has been in operation since September.
Mr Brown described the project as "innovative" and forming a "vital link" in the transport network.
"It will improve access for passengers going to and from Northern Ireland and the Republic of Ireland, which is particularly welcome in view of the potential increase in traffic during the Commonwealth Games and Ryder Cup events next year," he said.
He said it was the first all-electric bus bought through the Scottish Green Bus Fund with more funding available in future.
Mr Brown added that the Scottish government would continue to encourage people to switch to electric vehicles in order to free towns from the "damaging effects of petrol and diesel-fuelled vehicles".
During his visit Mr Brown also officially opened the newly-refurbished West Pier in Stranraer.
The structure was closed in 2008 following concern about its condition and public safety.