Dumfries and Stranraer have 'too many' alcohol outlets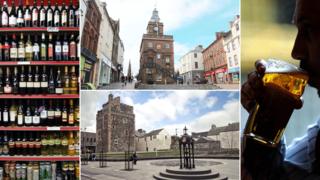 Health experts are urging a licensing authority to declare that Dumfries and Stranraer have too many premises selling alcohol.
NHS Dumfries and Galloway estimates the annual costs of dealing with drink-related harm in the region exceed £14m.
It wants to see the two towns classed as "overprovided" with pubs and off licences in a policy statement.
The region's alcohol and drug partnership said that would make it easier to refuse bids for new licences.
The four district licensing board in Dumfries and Galloway - covering Wigtown, the Stewartry, Nithsdale and Annandale and Eskdale - are meeting to renew their Statement of Licensing Policy (SLP).
A study has already identified Dumfries and Stranraer town centres as potential sites of overprovision.
They have the highest percentages of their population living within 300m of licensed premises.
The local Wigtown licensing board has already accepted that Stranraer could be overprovided with off-licences and is consulting on how to address the issue.
However, the Nithsdale board has not reached a similar conclusion for Dumfries.
NHS Dumfries and Galloway said that stance was "concerning" and could appear "illogical".
It said it strongly believed the new SLP should include a statement that both Dumfries and Stranraer had an excessive number of sites selling alcohol.
The health board would like to see any new applications in these areas obliged to provide justification for the extra capacity.
Dumfries and Galloway Alcohol and Drug Partnership (DGADP) is also in favour of such a move.
It said it was "perplexing and disappointing" that the Nithsdale board had not accepted Dumfries suffered from overprovision.
The partnership added that failure to include such a statement in the SLP could "significantly weaken" the ability to refuse any applications.
Members of the region's four licensing boards will meet on Thursday to draw up a renewed policy statement for the next three years.