Annan court shuts as closure programme gets under way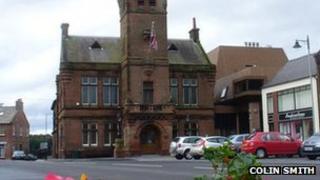 A closure programme across Scotland is officially under way with the last day of business at Annan JP court.
It will see 10 sheriff courts and seven justice of the peace courts shut.
Annan is the first full closure but Stornoway JP court was "disestablished" last month and business moved to the town's sheriff court.
The Scottish Court Service said the moves would allow investment to be made in order for a "modern structure of courts" to be created.
The list of sheriff courts to close is Dornoch, Duns, Kirkcudbright, Peebles, Rothesay, Cupar, Dingwall, Arbroath, Haddington and Stonehaven, with their business being transferred to other locations.
Justice of the peace courts in Annan, Irvine, Motherwell, Cumbernauld, Portree, Stornoway and Wick are also on the closure list.
Politicians around the country raised concerns about the distances it would require some witnesses and victims to travel.
They also suggested the courts kept open could struggle to cope with business.
SCS Chief Executive Eric McQueen said: "Investing in fewer courts will enable us to improve facilities and technology, which will provide better services for all court users, and in particular victims and witnesses.
"Where sheriff courts are closing we have installed facilities to allow victims and witnesses to use video technology to give evidence or be in contact with the court, where this is allowed by the current legislation.
"Future legislative changes will extend the circumstances where video links are possible in criminal and civil procedures."
Annan's court business will transfer to Dumfries following its closure.