Annan missing cat spate sparks appeal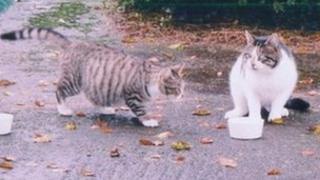 The Scottish SPCA is appealing for information after a spate of cat disappearances in southern Scotland.
One resident has lost five cats in the space of six months in the Howgill area of Annan.
The charity has also been made aware of two other cats in the area going missing and never being found.
It is now urging other members of the public who have lost cats in the Howgill area in recent months to contact them.
Ch Supt Mike Flynn said: "While it's a sad reality that cats go missing every day, seven within such a small area and short time frame is very concerning.
"There may also be more incidents that we are not aware of.
"These cats have never been seen again and no bodies have ever been found.
"Unfortunately, we have to consider the possibility that there may be someone close- by deliberately taking cats to cause them harm or even death."