Solway Firth cockle study could see beds reopened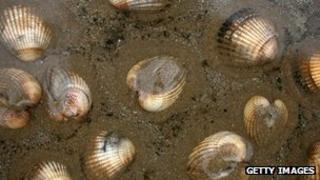 A study involving a "limited commercial fishery" on the Solway Firth is aiming to allow its cockle beds to reopen.
Gathering the shellfish has been banned off the Dumfries and Galloway coast since September 2011 in order to allow stocks to recover.
There have been regular concerns about illegal operations in the area.
Now a partnership led by Marine Scotland is looking at management methods which are "sustainable" and of "maximum benefit" to the economy.
The latest project hopes to build on the work of public consultation events held last winter and earlier this year.
Allan Gibb, Marine Scotland's Head of Sea Fisheries Operations, chaired the public meetings.
He said: "The overwhelming desire of everyone who contributed was for a sustainable long-term cockle fishery.
"The need for a partnership of local community, industry and agencies working together towards common goals was recognised as the only way to achieve this.
"A steering group chaired by Marine Scotland has now been established to co-ordinate a broad range of complementary work-streams, all geared towards building a management model which will deliver safe and sustainable fishing practices for the future."
The new study will test a Territorial User Rights for Fisheries (TURF) model for management of the fishery.
The TURF approach works by awarding exclusive access to fishing areas to a clearly defined group and has proved to be effective in managing issues such as overfishing and weak economic returns in other parts of the world.
The study will test a number of elements, including:
safe and controlled hand gathering of cockles on the beach
transportation between the beach and a single collection point
fair and transparent payment of cocklers
use of a single distribution point.
In addition, the Solway Firth Partnership has commissioned a further study to examine management options.
Fisheries Secretary Richard Lochhead said Marine Scotland had been working with the local community and agencies to achieve a "sustainable long-term cockle fishery".
"I am pleased there was widespread agreement for this innovative management study that will enable the safe and sustainable harvesting of Solway cockles," he said.
"The cockle fishery remains closed but Marine Scotland will work closely with a local contractor who will remove and sell a commercial volume of cockles which will enable us to test the proposed new arrangements.
"I have been heartened by the level of local support for this study."