Borders to Edinburgh railway works reach first anniversary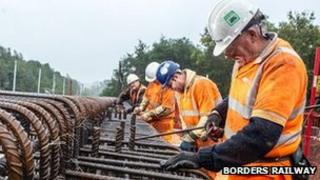 Almost 1,000 people are involved in works along the length of the Borders to Edinburgh railway to ensure it can open to passenger trains in 2015.
It is exactly one year since Network Rail took over the project.
Spokesman Craig Bowman said they were confident of meeting their contractual completion target.
Main contractor BAM Nuttall said there was activity along the entire length of the route and at the new stations being constructed.
This weekend a main road link between the Borders and Edinburgh is to close to allow a new rail bridge to be built.
The bed of the bridge over Gore Glen, just north of the Borders, is being hoisted into place over the A7.
It will be shut between 20:00 on Friday and 06:00 on Monday but will reopen between 08:00 and 14:00 on Sunday for Remembrance Sunday events in Gorebridge.
Mr Bowman said the works were progressing on schedule.
"Network Rail has always been working towards a contractual completion date of summer 2015," he said.
"We are still on target for delivering it for that date which should see us running services from autumn of that year."
He said it would see half-hourly services running from Tweedbank to Edinburgh with an estimated journey time of about 55 minutes.
Stuart McKay, of BAM Nuttall, said the works were now in full swing.
"We are now active on all 30 miles of the new railway line," he said.
"There is activity in all the locations of the seven new stations.
"The scale of the infrastructure is massive and we have currently got about 1,000 people working on this project - about 450 on the direct team and a number of other sub-contractors supporting us."
The A7 will shut again next weekend at the same point between 07:00 and 17:00 on Saturday.
Once completed, the railway will re-establish a passenger rail link between Edinburgh and the Scottish Borders for the first time in more than 40 years.