Skanska drops out of Dumfries hospital contract bid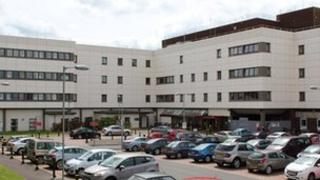 One of the three bidders to construct a new £200m general hospital in Dumfries has dropped out of the process.
NHS Dumfries and Galloway confirmed that Skanska had withdrawn its interest in the project.
It leaves Balfour Beatty and High Wood Health (Laing O'Rourke) in the process.
NHS Dumfries and Galloway said it remained on schedule to name its preferred bidder for the 350-bed hospital by late summer next year.
The health board said Skanska had not been influenced by "any aspect of the project, nor by the non-profit distributing model".
A company statement said it continually reviewed the "opportunities and risks" in markets across the world.
"In the UK a number of significant PPP projects, where we had an involvement, have not proceeded," it said.
"This has caused us to re-prioritise the use of available resources here in the UK.
"We have thus decided to withdraw from the Dumfries and Galloway acute services redevelopment project to concentrate on opportunities elsewhere in the UK."
NHS Dumfries and Galloway's chief operating officer Julie White said it would like to acknowledge the company's contribution to the early stages of the project.
"We look forward to working with the two remaining bid teams over the coming months to further develop the detailed design of the new hospital," she said.
"As per our initial timetable, it is fully anticipated that we will appoint our preferred bidder in the late summer of 2014."
It is hoped work can begin in 2015 with the opening scheduled for spring 2018.