Chapelcross radioactive waste storage opinion sought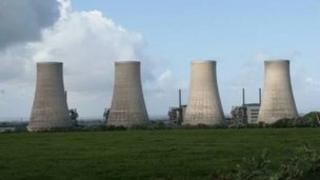 Details of a facility designed to store radioactive waste for up to 150 years have been submitted to Dumfries and Galloway Council.
Magnox Ltd wants to know if an environmental assessment is needed at the Chapelcross nuclear site.
It said the building would store "packages of passive radioactive waste" during the site clean-up process.
Chapelcross ceased power generation in 2004, with its landmark cooling later being pulled down.
Decommissioning work is ongoing at the site near Annan, with the latest step a request for a "screening opinion" on plans for the storage facility.
The Interim Storage Facility's foundations would consist of 300 concrete piles and a reinforced concrete floor about 2ft (600mm to 700mm) thick.
The walls would also be nearly 18in (450mm) thick with the main frame of the facility clad in aluminium.
The company said that the waste stored at Chapelcross could be transferred elsewhere in Scotland "as and when" suitable disposal sites became available.