Head teacher David MacIsaac faces deportation wrangle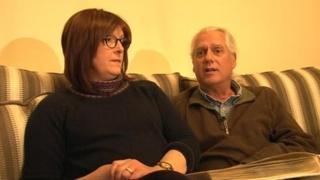 A head teacher who is battling to avoid deportation has taken his case to Scotland's education minister.
American David MacIsaac, who has been in charge at Ae Primary School for seven years, met Mike Russell to discuss his situation.
The Home Office has suggested he could be offered a 30-month visa extension on compassionate grounds because his Scottish wife, Susan, has cancer.
However, that is on condition of him withdrawing his current appeal.
The teacher has lived in the UK for nine years on visas granted for his professional skills as a teacher - but its terms were restrictive.
Having married nearly five years ago he sought permanent residency.
That has been refused - officials originally dismissing the marriage as not genuine and subsisting.
The Home Office has since accepted errors were made in the way that information was assessed but maintain the decision to refuse permanent residence was correct.
Range of options
It has offered Mr MacIsaac a range of options to try to reach an agreement but the case appears most likely to go to appeal some time next year.
He said he believed he had made a real difference at the 17-pupil school during his time as head teacher.
"I would say that in some ways I have brought a different perspective to education and what it looks like on a day-to-day basis in the school," he said.
"Making school fun and interesting for children - I think that is something that we have done here at Ae.
"We have done a number of large-scale projects that have been very successful and well supported by the community.
"I am proud of them and I am proud of the job we have accomplished over the last seven years here at Ae."
South of Scotland MSP Joan McAlpine, who introduced Mr MacIsaac to Mr Russell, said the head teacher was in a "highly stressful and unsettling situation".
"We need to cut through the bureaucracy and get this sorted at once," she added.