Closure plans for Dumfries DG One centre postponed again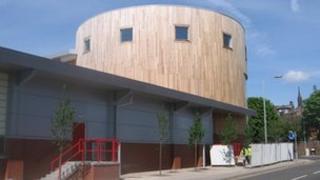 The closure of a flagship Dumfries leisure centre for major repairs has been postponed for a second time.
The £17m DG One complex was due to shut in January next year but that was shifted to June.
Dumfries and Galloway Council has now extended that to the end of August "at the earliest".
The authority said it expected increased interest in sport due to the Commonwealth Games next summer and wanted to meet that demand.
It would also allow the closure to coincide with the end of the school holidays.
Moves have already been agreed to provide cover during the closure of the DG One facility.
It will shut completely for four months, with its pool closed for 13 months after that.
A temporary pool is to be sited in the car park at the town's Ice Bowl while the Loreburn Hall will be reopened to provide fitness suite facilities.
A report on the costs of those measures will go before councillors in December.
'Premier facility'
Council leader Ronnie Nicholson said it was a commitment of the council to provide "equal access to leisure facilities for everyone".
"I am pleased that good progress is being made to provide alternative leisure facilities in Dumfries whilst the remedial works will be carried out at DG One," he said.
"The council has now committed to remedy the defects at the facility and has appointed a project manager to see this process through.
"This shows our commitment to sorting the issues so that local people have a premier facility that they can use and be proud of."