St Joseph's Primary school in Selkirk at 'turning point'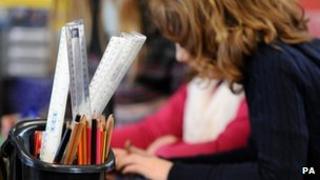 A school rated "weak" and "unsatisfactory" by inspectors has reached a "turning point" according to its headteacher.
St Joseph's RC in Selkirk was falling below standards in all categories.
Inspectors said children had not been "achieving well" but were now starting to "feel better about their learning".
Both Education Scotland and Scottish Borders Council are to provide support to help the school improve.
The school was the subject of a visit in September this year and will be visited again in the next 12 months.
Inspectors found work needed to be done to improve performance across all the main indicators used to measure the quality of education being provided.
However, they noted steps had already been taken to address the issues and that staff were enthusiastic and recognised the "need to improve children's experiences".
'Right direction'
Headteacher Karen Gray said: "St Joseph's has recently gone through a difficult period.
"However, we are pleased that the inspection recognised that the school had reached a significant turning point.
"The inspection and the report confirmed that the new management team had correctly identified the needs of the school and had already taken steps to move the school forward in the right direction."
She said the school was now moving forward at a "rapid rate" with staff, pupils and parents all working together.
Ann Robertson, who chairs the parent council, said: "The report clearly highlights that the success of the school now lies with combined efforts of the new teaching staff, the children and the parents, all of whom want to work together to improve the children's learning.
"St Joseph's parent council wishes to work with the teaching staff to bring about any necessary changes and also wants to highlight that they fully support the teaching staff in their efforts to do so."