Peebles chocolatier Ruth Hinks misses out on world title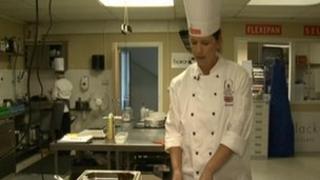 A Borders chocolatier has missed out on becoming the UK's first winner of the World Chocolate Masters in Paris.
Ruth Hinks, from Peebles, was one of 19 competitors seeking the prestigious crown in Paris.
She was named as one of the top five but the title was taken by Davide Comaschi from Italy after three days of competition.
It was the fifth edition of the competition which has been held every two years since 2005.
During the event, the competitors had to produce a range of chocolate items including a showpiece work standing between one and two metres tall.
Organisers said the chocolatiers had "raised the bar" in terms of quality this year.
Previous winners of the chocolate masters have come from Belgium, Japan and the Netherlands.