Public asked to set Scottish Borders Council budget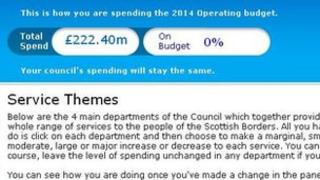 Scottish Borders Council has launched a budget simulator on its website to allow members of the public to set out their own spending priorities.
People can adjust the multi-million pound budget across the authority's four main departments.
Submissions will then be studied by council staff as part of consultation on budget plans.
Depute leader John Mitchell said there were difficult decisions to be made and the council wanted public input.
He said the budget simulator was a "really interesting tool".
"It's a great opportunity for the public to see where the council spends its money and how important it is to achieve a balanced budget across our services," he said.
"Someone might think it is important, for example, to invest more in roads but it might mean less money is available to spend on schools or on care for the elderly."
"The simulator also provides the council with information about residents' priorities and how best we can meet their needs - which is absolutely vital."