Dumfries and Galloway Council apologises over tax letters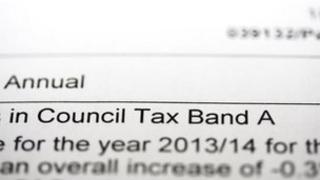 A local authority has apologised over thousands of letters which "may have upset" people claiming a single person discount on their council tax.
Dumfries and Galloway Council hired an external agency to carry out a review of benefits.
It sent out about 3,500 letters which the authority said it accepted contained some "unfortunate language" and may have caused distress.
It has written to all recipients of the letters to apologise.
The letters informed people that if they failed to reply within 21 days it would be assumed that their circumstances had changed and result in their benefit being removed.
It also warned of the fines which could be imposed if they provided false information.
One person contacted was Chick McKenna who lives on his own in a property in Dumfries.
He visited a web address provided in the letter and was shocked at the information he found.
"I was very surprised - I didn't expect to go onto a website and find that I am supposed to be cohabiting with a lady who stays in another flat," he said.
"I was really angry and shocked at the information that was being provided.
"The letter is intimidatory in tone."
He said he understood the council needed the information but suggested it did not have to be sought in such a manner.
"I am claiming a single person discount on my council tax so they have to check that," he said.
"But do they have to use this kind of tactic?
"Surely they can get the information by other means."
The council said it had a statutory obligation to review its council tax benefits.
It took on a third-party organisation due to the volume of work involved.
A council statement said: "This is all carried out in adherence with the Data Protection Act.
"This is common practice and happens in other councils also."
However, it said it accepted that the wording of the letter had caused concerns.
'Caused upset'
Alex Haswell, director of chief executive services, said: "Approximately 3,500 letters were sent to people in our region.
"We understand that this letter may have caused upset to some people - for that we apologise."
He said it was not the way in which the council usually conducted its business.
"We are writing to all those who have received the letter to apologise in writing and to explain why we are carrying out the review and the process we are following," he said.
"We will be looking into this issue to make sure that it doesn't happen again."