Robin Rigg wind turbine expansion plan views urged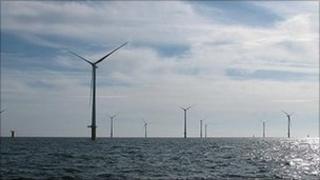 The public is being urged to make its views known on possible plans to extend a large wind farm off the Dumfries and Galloway coast.
Expansion of the Robin Rigg development in the Solway Firth was ruled out by Scottish ministers in March 2011.
However, it has resurfaced as an option in a consultation document on offshore energy developments.
It has prompted a number of politicians in the area to encourage the public to give its opinions on the plans.
The extension was ruled out - along with plans for Wigtown Bay - due to concerns over its visual impact.
Its reappearance has been condemned by Dumfries and Galloway's Labour MP Russell Brown.
He has accused ministers of ignoring public opinion and trying to "sneak through" the plans.
Galloway and West Dumfries Conservative MSP Alex Fergusson said it "beggared belief" that the Robin Rigg plan had resurfaced.
He also has concerns about any possible offshore development in Luce Bay.
The Conservative group on Dumfries and Galloway Council is calling for a special meeting of the full authority to discuss the consultation.
Abbey Ward councillor Ian Blake said it was vital locals had their say.
"The proposed additional wind farm adjacent to Robin Rigg is considerably larger than the existing site and would without doubt drastically affect tourism in the area recognised nationally and internationally for its outstanding scenery," he said.
A Scottish government spokesman said it was at the consultation stage and no decision had been made on any sites.
He said it would "listen, engage and take on board the concerns of communities".
'New options'
"It should be noted that the sites currently being consulted are different from those previously consulted upon," he added.
"For example, one of the new options in the south west region is located significantly further offshore than the previous Wigtown Bay site, and others such as the site adjacent to Robin Rigg have been included as a result of new information that was not previously available in 2011."
He said the evidence would be gathered from the consultation together with "social, economic and environmental assessments" before being presented to ministers.
"It is the role of Scottish ministers to then consider this evidence and decide on the content of the draft and final plans," he added.