Borders General Hospital parking fines on the horizon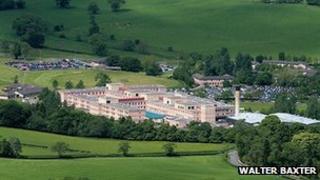 Fines are to be introduced next month for vehicles which are parked inappropriately or for too long at Borders General Hospital.
From Monday, motorists will receive a "friendly warning".
However, that regime will only last four weeks before penalties begin to be imposed.
NHS Borders said it remained committed to providing free parking but that the present situation was actually putting people at risk.
From 25 November, £90 fines will be issued to those who leave cars in "inappropriate" places - such as outside spaces, on kerbs, on chevrons or in ambulance bays - reduced to £40 if paid within 14 days.
The car parks nearest the hospital will be designated for short stays with a four-hour limit for both patients and staff between 08:00 and 17:00.
Monday sees the start of a four-week transitional period before the fines are brought into force.