'No evidence' of Loch Ken crayfish risk to cattle food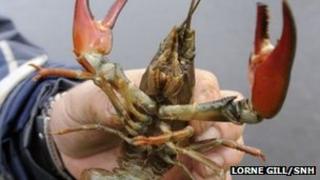 Environmental experts have said they have seen no evidence that non-native crayfish are getting into cattle feed near a loch in Dumfries and Galloway.
A meeting was held near Loch Ken earlier this month and concerns had been raised that North American signal crayfish were getting into silage.
However, Scottish Natural Heritage said it had seen nothing to suggest it was a major problem in the area.
It added the chances of their survival in silage bales were "very low".
An SNH statement also stressed it would not expect farmers in the area to stop making silage and feeding it to their animals.
The organisation said it was "very concerned" about the spread of signal crayfish in Scotland.
"They present a significant threat to native wildlife and to fisheries," a statement said.
"In most cases they have been deliberately introduced by the irresponsible actions of people, even though it is illegal.
"We have been at the forefront of work to try and control and eradicate crayfish from freshwater habitats in the UK and beyond."
SNH said a wide range of techniques had been tried.
'Impossible to eradicate'
These have included trapping, removal of crayfish by hand, electrofishing, biocides and developing and installing a barrier to try and prevent them moving from the River Clyde to the River Annan catchment.
"Unfortunately, there is nothing currently available that will get rid of them from Loch Ken, or anywhere else," the statement added.
"Once established, they are virtually impossible to eradicate.
"However, we are always open to new ideas and techniques that come forward."
The problem at Loch Ken has existed for a number of years.
Millions of the crayfish have infested the once-thriving angling waters.