Mary Rose attraction added to Flodden museum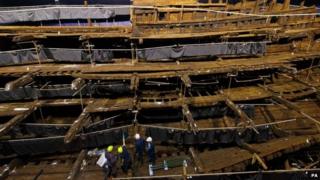 New sites - including the Mary Rose museum in Portsmouth - have been added to a Battle of Flodden ecomuseum.
The latest additions include churches, bridges, castles and museums at locations as far apart as Suffolk, Manchester and Galloway.
The ecomuseum brings together places with links to the battle, to "preserve the heritage and traditions of communities around a central theme".
There are now 41 sites included, mostly in Northumberland and the Borders.
Many of them are in the Tweed Valley across the Scotland-England border where the battle took place in 1513.
It involved the Scots army of King James IV and an English army commanded by Thomas Howard, Earl of Surrey.
It ended in defeat for the Scottish forces, with about 10,000 lives lost, including that of the King himself.
English casualties are estimated to have been between 1,500 and 4,000.
A plaque is being put in place at the Mary Rose Museum in Portsmouth to mark its links.
The Mary Rose played a significant part in the battle.
The ship was Thomas Howard's flag carrier and delivered him and approximately 1,000 troops and sailors to join the English army in Newcastle-upon-Tyne.
Rear Admiral John Lippiett, chief executive of the Mary Rose Trust, said: "We are delighted to strengthen our association with Flodden and wish them every success in this important year."
Lord Joicey, director of the Flodden 1513 Ecomuseum and on whose land the battlefield lies, welcomed the expansion of sites.
"We're delighted to have such a diverse and extensive range of new ecomuseum sites which all help to remember the Battle of Flodden and to educate and inform people about its role in our shared English and Scottish history," he said.
"The first task of the Flodden 1513 Ecomuseum was to co-ordinate events leading up to 9 September, the 500th anniversary of the battle itself.
"Now our focus is on building and strengthening the community-owned heritage network, where memories, cultures, traditions and history are protected and shared with local people and visitors."