Scotland-England border anti-crime operation targets criminals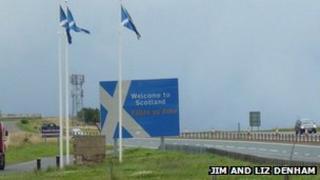 Police and a wide variety of other agencies are staging an operation targeting crime on routes across the Scotland-England border.
It is the sixth time they have held Operation Overlord.
Police from the Borders and Dumfries and Galloway are teaming up with forces from the north of England.
Previous operations have led to hundreds of offences being detected ranging from drug crimes to the recovery of stolen vehicles.
Sgt Brian Jones, from Police Scotland, stressed ordinary motorists had little to fear from the operation.