Scottish Borders Council seeks community gritting effort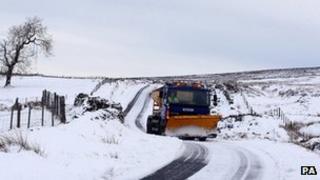 Communities in the Borders are being invited to "help themselves" when it comes to gritting areas of their towns of villages.
Scottish Borders Council has agreed to provide salt bins to community councils who have signed up for the authority's Resilient Communities Initiative.
Cuts to the region's "primary network" led to concerns in some rural areas.
Councillor Gordon Edgar said the grit bin strategy could pay off for areas willing to get involved.
"It is part of the resilience plan, if you like, that communities can become involved and take part in their own safety," he explained.
"The provision of equipment is from the council and within their resilience plan they will have set up a procedure so they can use the equipment to their best benefit.
"Some of the community councils are very active in providing services for their communities and these are the ones we are targeting to begin with."