Dumfries thank-you mission for young Romanian man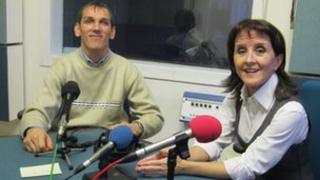 A young Romanian man "rescued" from one of the country's state hospitals is visiting Scotland to thank the people who changed his life.
Razvan Boc was nine years old when he was discovered by nurse Linda Barr.
She had gone to work with children abandoned by Romanian society because of their perceived disabilities.
Ms Barr went on to form Dumfries-based charity the RAP Foundation which runs an apartment in Bucharest where Mr Boc now lives with three friends.
He has also found a job and saved his airfare to Scotland to meet - and thank - the foundation's supporters.
Ms Barr said she immediately saw his potential.
"I first met Razvan 23 years ago when I went out as a volunteer nurse and worked in an institution for mentally, physically and emotionally disabled youngsters," she said.
"Razvan was in with a whole batch of youngsters who were classified by the system as being disabled and of no use to society.
"But he actually shone out quite a bit and he demonstrated a real keenness and willingness to try and develop his own skills."
Mr Boc, who has taught himself to speak English, said it was very special to come to Scotland and meet some of the people who had helped him.
"For me this is very super," he said. "I visit many, many friends - it is wonderful."
He said everyone had made him very welcome and he had taken the opportunity to thank them for their assistance.
Ms Barr said it had not been straightforward for Mr Boc to make the trip.
"For Razvan to come to Scotland was an incredibly hard journey for him to get his ticket," she said.
"He had to go to many offices and really fight through a huge amount of bureaucracy and he challenged everybody that got in his way and fought really hard for his independent rights to actually hear his voice.
"He succeeded - after a huge fight I might add."
She said she would never have thought it possible he could make such a journey when she first met him many years ago.
"Razvan has demonstrated skills and qualities that are profound," she said.
"He is an ambassador for what can be achieved by lots of people in Romanian orphanages."