Scottish textile firms raise growth targets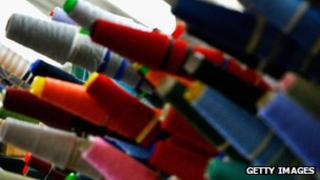 Scotland's textile industry has set new growth goals after exceeding targets it had originally hoped to reach in seven years' time.
Finance Secretary John Swinney made the announcement during a summit in the Scottish Borders.
A 2011 Textiles Industry Strategy aimed to increase turnover to £846m by 2020 but it now stands at £950m.
It has prompted a revised target for taking turnover to between £1.2bn and £1.5bn by 2020.
Mr Swinney said: "The textile industry has made and continues to make a massive contribution to the economy.
"Today's figures show the huge demand the sector has in markets across the world and the success of the industry.
"The Scottish government and its agencies are committed to helping the sector make the most of the estimated £81bn global market."
He also announced that £120,000 via Skills Development Scotland (SDS) has been awarded to the Scottish Textiles and Leather Association.
It will be used for a range of initiatives including introducing a Certificate of Work Readiness for 16 to 22-year-olds seeking their first experience of work in textiles.
David Martin of SDS said: "This funding will help the Scottish textiles industry develop and will also ensure there's an increase in opportunities for young people and new entrants looking to join the industry.
"There's huge potential for the textiles industry to expand in Scotland.
"SDS is delighted to be playing a part in that growth by working in partnership to ensure the skills are in place for future development."
Head of textiles at Scottish Enterprise, Cathy Black, said the rise in turnover was testament to the "ambitious and innovative" nature of textile companies.
"In 2013 alone, we have supported over 40 companies to participate in leading international events such as Chic in China, Decorex in London and, in November, six rail interior companies will visit Cologne to exhibit at the Railway Interior Expo," she said.
"It's opportunities like these as well as the sector's strong heritage and world-class reputation in design and excellence, that help to support the sector's ambitious target to increase exports by 50% by 2017 and contribute to its wider economic growth.
"Working together with our partners and stakeholders we are committed to helping grow this important sector to Scotland."