Ex-Scotland rugby player Norman Pender denies rape charge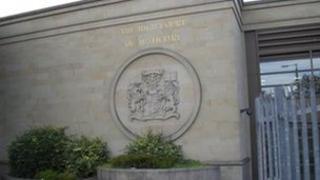 A former Scotland rugby international is to stand trial later this year accused of rape.
Norman Pender, 65, of Hawick, appeared at the High Court in Glasgow.
He is charged with raping a girl on various occasions between 1990 and 1997 in Hawick when his alleged victim was aged between 12 and 19.
He faces further charges of sexual assault and lewd and libidinous practices. Not guilty pleas were lodged to all the charges.
Judge Lady Stacey set a trial date in December.
The case is expected to last around four days.
Mr Pender was capped four times for Scotland in the late 1970s and played his club rugby for Hawick.
He also served as a Lib Dem councillor on Scottish Borders Council between 1998 and 2003.