Great Polish Map of Scotland support sought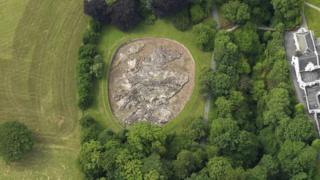 Scottish Borders Council is being advised to award funds to help restore a giant three-dimensional map of Scotland in the village of Eddleston.
Mapa Scotland has asked for £4,000 towards repair work on the map, built by Polish nationals in the 1970s.
It was created to celebrate the links between Poland and Scotland and, especially, the contribution of Polish servicemen during World War II.
SBC is being asked to agree funding to aid the upgrade works.
The map was awarded B-listed status last year.
It sits in an oval pool about 160ft (50m) wide and 5ft (1.5m) deep and once held gravity-fed water recreating rivers, lochs and seas.
The map is currently the focus of a major restoration project in the grounds of the Barony Castle Hotel at Eddleston.
The campaign to restore the map began in April 2010, when a group of volunteers constituted Mapa Scotland, a charitable trust which has secured Heritage Lottery funding to advance its plans.