Missing Henry Moore bronze statue 'worth £3m'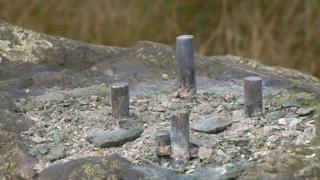 A missing bronze sculpture is believed to be worth up to £3m, according to police.
There is still no sign of the bronze piece by Henry Moore which was stolen from a park in south west Scotland.
Standing Figure was one of four pieces by Moore at the Glenkiln Sculpture Park in Lincluden Estate near Shawhead.
The remaining major pieces at the site have since been moved into secure storage for their safety.
Estates manager, Tom Florry said: "On Saturday we removed the three other major pieces that are most accessible.
"Those being the King and Queen, the Visitation and John the Baptist. They have now been moved into secure storage."
Investigation continues
A Police spokesman said: "In this early stage of the investigation we have not discounted any line of inquiry.
"We are open minded with regards to the motive, the thieves could have targeted it for the value of the artwork or purely for its scrap metal value.
"It would have required some effort to remove the sculpture from the rock it was attached to and the weight of it would've meant a vehicle would have been needed to transport it."
He added: "Often thieves will scope out a potential target by visiting it several times in the lead up to the incident.
"If you have seen anything out of place in the area in the past few weeks please contact us."
Standing Figure is among a number of works by the abstract artist, who died in 1986 aged 88, to be targeted by thieves in recent years.
Last November, a Henry Moore sculpture worth up to £500,000 was taken from the Henry Moore Foundation at Much Hadham, Hertfordshire.
Two men later admitted stealing The Sundial sculpture, which they then sold for £46.
Sculpture park
The Glenkiln sculpture park was created by local landowner Sir William Keswick between 1951 and 1976.
Sir William bought Standing Figure after seeing it in an exhibition, and Moore was personally "thrilled" with the artwork's open air location.
Moore said of the project: "I don't know whether he got the idea to put sculpture on his sheep farm after he saw the Battersea Park open-air exhibition, or whether he was inspired by his experiences in China, where he had lived for many years, and where, he said, there are many examples of monumental sculptures in the open air.
"In any case, he bought this piece to put on his farm in Scotland. He placed the sculpture himself on an existing outcrop of rock.
"Later I went up there and was thrilled with the beautiful landscape and at how well he had sited 'Yon Figure'."