Da Vinci accused Marshall Ronald drops police claim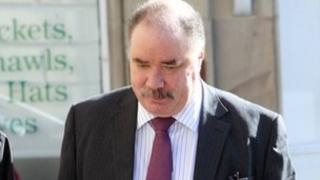 A man cleared of conspiring to extort £4.25m for the return of a Leonardo da Vinci painting has dropped his bid to sue the police.
Marshall Ronald is still pursuing an action against the Duke of Buccleuch.
He was one of five men cleared of plotting to extort money for the return of the Madonna of the Yarnwinder, stolen from Drumlanrig Castle in 2003.
Mr Ronald was suing the duke and the police but has now dropped part of that claim.
Mr Ronald, of Skelmersdale, Lancashire, was acquitted with others of a conspiracy to extort £4.25m for the safe return of the masterpiece at a trial at the High Court in Edinburgh in 2010.
The valuable artwork was stolen from the Duke of Buccleuch's property seven years earlier.
After the court case, Mr Ronald raised an action at the Court of Session in Edinburgh claiming that he was owed payment of £4.25m for the return of the painting.
Lawyers acting for the duke maintained that he had not entered into any contract with Mr Ronald.
The case was continued.