Selkirk pupils set Flodden musical mission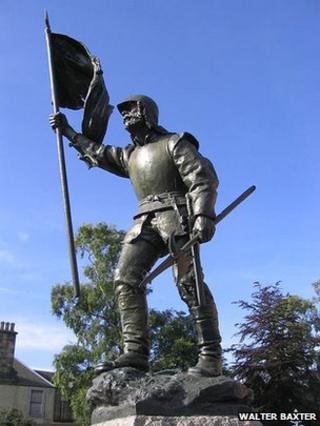 Selkirk school pupils are taking part in a project to create a musical event commemorating the Battle of Flodden.
Fletcher's Ballad involves Scottish Borders Council's Youth Music Initiative (YMI), the Scottish Chamber Orchestra (SCO) and Abbotsford House.
The project is being led by award-winning British composer, John Barber, with support from SCO musicians.
It will end with a "showcase event" of the songs and music produced on 1 November.
The project is named after a figure who is an important part of the town's history.
A statue in Selkirk commemorates Fletcher as the only man from a deputation of 80 from the town to survive the Battle of Flodden in 1513.
The project will start with "inspirational visits" to Abbotsford House to learn about how Sir Walter Scott used items he collected to develop his own creative ideas.
Mr Barber will then work with the pupils to develop a theme which will be used as the basis of their songs and music.
It will conclude with a "Big Sing" in the Victoria Hall involving pupils from all local primary schools and Selkirk High School.
It will take the form of a ballad which will tell the story of Flodden with the pupils performing a number of songs interspersed with text.
Councillor Vicky Davidson said: "Fletcher and his return from Flodden are an integral part of Selkirk's history and it is exciting that pupils and young people in the area are getting the chance to participate in such an innovative musical project in this anniversary year.
"Not only will they be given the chance to work with professional musicians and composers, they will be doing so in a way that will develop their creativity, social skills and knowledge of local history."