Galashiels Academy lathe safety breach lands council £48,000 fine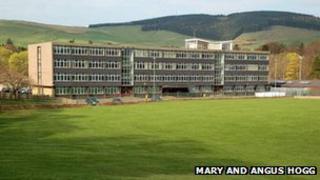 A council has been fined £48,000 for health and safety breaches after an incident in which a schoolgirl was dragged into a lathe by her scarf.
Nadine Craig, who was 14 at the time, was pulled into the machine in November 2007 and freed by fellow pupils.
She received 40 stitches to a wound in her neck and it was six months before she returned to Galashiels Academy.
At Selkirk Sheriff Court, Scottish Borders Council admitted failing to provide a proper guard for the lathe.
It also admitted not carrying out risk assessments on machines in the Craft and Design Technology classes over a period of almost three years.
The council had said there had been "tension" with the teacher over risk assessments as he stated he was not trained nor had the time to carry them out.
In his findings, Sheriff Kevin Drummond said: "It was wrong of him to fail to comply and it was wrong of the authority to allow it to continue."
He also pointed out a guard was available for the machine which could have been purchased for £260 plus fitting costs.
Sheriff Drummond described the offences as a "serious failure" and said the gravity of the breach meant he would impose a fine of £72,000.
He awarded the council full credit for the early guilty plea and reduced the fine to £48,000.
At an earlier hearing the council said the teacher was "removed from classroom duties after this incident and shortly afterwards took early retirement".
Ms Craig, now 20, was awarded £27,000 when a civil claim for damages was settled in 2011.
However, she said she was unhappy with how the matter had been handled.
"It was terrifying at the time - I could have died," she said.
"I don't feel like I've had justice because no one personally has been made accountable for this.
"I have to live with this scar for the rest of my life and it is something I am ashamed of people seeing."
A council spokesman said the authority had offered an "unreserved apology" to Ms Craig.
"The council has accepted its responsibility, having made an early plea in court, and a full safety review of technical classes in all secondary schools was carried out immediately after the accident," he added.