Fire control room closure handling 'lessons to learn'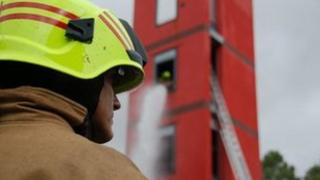 A senior Scottish Fire and Rescue Service officer has admitted its handling of moves to close a Dumfries control room could have been better.
The centre is one of five being considered for closure.
Assistant Chief Fire Officer Dave Boyle issued an apology directly to members of Dumfries and Galloway Council's police and fire committee.
He said the service could have handled the issue much better and would learn from the mistake.
However, he said there would be no rethink on the decision taken by the board.
"The SFRS, myself and the strategic leadership team and the board need to learn lessons from community engagement, from local authority engagement and all the rest of it," he said.
"We will be examining where we have gone through this process and what we could do better and, more importantly, how we change our actions for the future."
He said there had been issues with the Dumfries control room for a number of years and it would have needed significant investment in order to continue.
"What the board have decided has actually just brought the final chapter down on that," he said.
"We will now start to invest money with the local stations to make sure that they are retained to be mobilised in the way they should be."
'Major mistake'
Once the fire control centre in Dumfries is shut, all emergency call handling for the region will be transferred to Johnstone in Renfrewshire.
Labour councillor Ronnie Ogilvie, who sits on the local authority's police and fire committee, said he remained deeply concerned about the impact of the closure - both operationally and in terms of employment.
However, he said the fact the SFRS had recognised that it had made a major error in not consulting was at least something.
"To be fair to the fire board they have acknowledged that - and it is not just in Dumfries and Galloway," he said.
"Other people are jumping up and down as well.
"They have realised they have made a major mistake and they are going to address that - but it doesn't change the decision though."