Dumfries and Galloway Council confronts green goal shift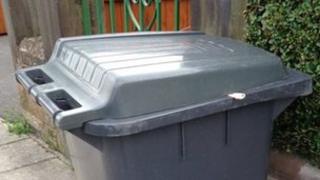 Dumfries and Galloway Council is pretty unusual among UK local authorities - it provides just one wheelie bin per household.
An Eco Deco facility, officially opened in 2007, allowed the region to move to single-bin collections.
However, new regulations mean separate bins are being reintroduced and two new processing facilities are being built.
MSPs have criticised the costs involved but the local authority insists it is a chance to make services "even better".
Dumfries and Galloway Council signed a 25-year waste management Private Finance Initiative deal with Shanks Waste Management in 2004.
The total Scottish executive commitment to the project over its duration was reported as more than £110m.
The plant officially opened in late 2007, claiming to be the first of its kind in Scotland.
It takes waste and breaks it down into five re-usable components - eliminating the need for homeowners to separate their own rubbish.
Indeed, a 2011 study found the council was one of just two in the UK able to collect a single bin.
But new rules mean a "fundamental change" is now needed.
The Waste (Scotland) Regulations 2012 require the separate collection of paper, card, glass, metals and plastics for recycling - as well as food waste in most urban areas.
It means that from one wheelie bin the local authority will start next year in rolling out five separate recycling containers to homes.
It will cost almost £4m to implement, including the purchase of new collection vehicles and household bins.
It will also see running costs of the service increase and two new waste management centres opened in Dumfries and Stranraer at a price of some £20m.
Director of planning and environment services, Alistair Speedie, admitted it was a "fundamental change" but one the council would grasp "with both hands".
He said the waste PFI contract had been "extremely successful" over nearly 10 years in operation.
"We have gone from diverting 5% of our waste away from landfill to now up to 66% so that has been a huge improvement," he said.
Recycling rates have also gone from 4% to 21%.
"What has happened now is that the legislation has changed," he said.
"That legislation dictates that we have to collect our waste in a different manner.
"It is one of those things," he added. "It is no big deal. Legislation changes in all the services that we provide in the council regularly - for improvement, to better ourselves and to look after the environment - for all the right reasons."
He added that the costs would not put pressure on council budgets with the Scottish government providing support to buy the bins and vehicles involved.
"How we pay for the rest of the infrastructure is quite simple - it is on a spend to save basis," he said.
"By diverting more and more waste away from landfill we will save a massive amount in landfill tax so that is what will pay for it.
"So there is no budget pressure on the council."
He stressed, also, that the Eco Deco plant remained relevant despite the move away from single bin collection.
"The plant itself, Eco Deco, will still play a really important part in our whole system," he said.
"It is not that the plant is prejudiced in any way - the plant is there as the rock that we are building everything else on and it always will be."
There has, however, been political concern about the costs involved in making the change.
Conservative MSP for Galloway and West Dumfries Alex Fergusson said he had been "horrified" by a "reinterpretation" of environmental values which meant kerbside recycling would have to return.
"The extra expense is massive," he said.
"I understand that council officials expect only around a 40% compliance with the new system, and I wonder where all these bins are going to sit on some of our pavements."
He said he did not believe the whole situation had been handled well.
"This has all cost the council tax payers an exorbitant amount of unnecessary money, but it has been brought about by the Scottish government's inflexible interpretation of EU rules," he said.
Lib Dem counterpart Jim Hume has also criticised the situation.
He accused the Scottish government of "running roughshod" over local decision-making and "forcing the council's hand" into making another change.
"The council will now incur £24.5m capital costs at waste management centres, nearly £4m capital costs of new waste trucks and multiple bins, and not to mention an estimated yearly shortfall in revenue costs of £422,000 from 2015-16," he said.
"How Dumfries and Galloway meets its recycling targets in the future will depend largely on the public information campaign running alongside the new arrangements
"But I fear this change has already met with huge public opposition and efforts to engage communities will have to be immense for the region to meet its targets; another costly exercise for the council to bear."
Labour environment spokesman on Dumfries and Galloway Council, Colin Smyth, said his party had consistently made clear that dependence on the Eco Deco plant "was never likely to be acceptable to the Scottish government".
"That is why we opposed the move to close recycling sites and scrap the doorstep 'blue box' recycling scheme three years ago but we were overruled by Tory and SNP councillors," he said.
"It's a bit rich of those same parties to now claim the council are the innocent victim of a change in legislation.
"They were warned this was always likely to be the government's direction of travel but they buried their head in the sand and hoped it wouldn't happen."
He said the council should have been building up recycling alongside the use of the Eco Deco plant.
He said the U-turn was now going to cost the "hard pressed taxpayer a fortune".
A Scottish government spokesman defended the goals it has set for councils.
"The Scottish government's Zero Waste Plan is one of the most ambitious waste policies in Europe," he said.
"Under that plan we now have measures that will significantly increase the recycling and reprocessing of key materials and in doing so reduce demand on primary resources and deliver new economic opportunities for Scotland.
"It is for local authorities to decide how they deliver services to meet these requirements."
'Overall savings'
He said that support was available to help councils meet their targets.
"Greater recycling levels will deliver economic and environmental benefits to Scotland and overall savings to local authorities," he said.
"All councils in Scotland are working towards delivering these requirements and they can access funding and support from Zero Waste Scotland to help implement any changes required."
A Zero Waste Scotland statement said it had supported the council to "review its recycling services and to implement changes needed to ensure it complies with new waste regulations".
"The regulations are designed to maximise high quality recycling, which is about securing the best outcomes for the economy and the environment," it said.
"By introducing separate recycling collections the council is maximising the potential to create jobs and economic benefits from the materials people throw away.
"Most people want to do the right thing by recycling and it's important that people get behind these new services and support high-quality recycling."
Shanks declined the opportunity to comment on the issue.
As for homeowners, they will start to see the effects from next year as the new bin provision is rolled out across the region.