Scottish Borders Council cuts senior posts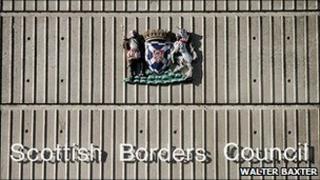 Scottish Borders Council is to cut the number of directors and chief officers it employs in a move which will save more than £100,000.
The authority hopes the changes will allow it to "reshape itself to meet the significant challenges facing public services in the future".
The number of directors employed will drop from four to just two.
By grouping different ranges of services together the number of chief officers will fall from 19 to 12.
As well as direct savings, it is hoped the move will allow more than £600,000 to be reinvested into other services.
Chief Executive Tracey Logan said: "Against a backdrop of reducing public sector funding and an increased focus on partnership working, our aim is to deliver better, more responsive and integrated local services to the people of the Scottish Borders.
"To enable that to happen we need to reshape ourselves to meet these challenges and at the same time focus our resources on the delivery of frontline services."
The restructure was discussed by councillors in private at a meeting on Wednesday.
Council leader David Parker said: "I am confident that these changes will enable SBC to respond positively and effectively to the new challenges facing local government and I am pleased to see our senior officers leading that change.
"As well as freeing up more resources the new structure will enable senior officers to deliver the changes needed to services and I am therefore pleased to support it."