Dalbeattie High School pupils compete in Da Vinci Decathlon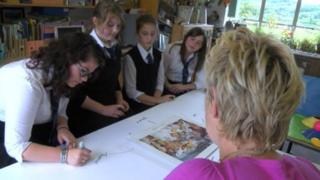 A 10-strong team of pupils from a south of Scotland secondary school is flying out to Italy to compete in an international academic challenge.
The Dalbeattie High School students are taking part in the Da Vinci Decathlon in Milan.
It is made up of 10 different disciplines inspired by the achievements of Leonardo da Vinci.
The decathlon was invented by a school in Australia which had a teacher on placement at Dalbeattie last year.
The high school agreed to take part as the competition goes world-wide for the first time.
Team mentor, maths teacher Piers Butler, said: "The breadth and depth involved is massive but so it should be.
"But the pupils have really, really enjoyed it.
"One week we have been doing philosophy debates and then we are suddenly doing an engineering challenge."
He said it had proved really popular among both pupils and staff.
'Good team'
"Every week is different and it is things they wouldn't normally come across in school," he said.
"The teachers are really getting involved because it is different from the normal day-to-day, so it has captured everyone's imagination."
The group has been preparing for about four months.
Team member Catherine Kellett said: "We've got someone in every discipline that is really quite an expert."
"I think we work really well as a team and we know each other's strengths and weaknesses," added Emma Forsyth.
"So we won't have any trouble working as a team when we go to Milan."