Labour and SNP form Dumfries and Galloway Council coalition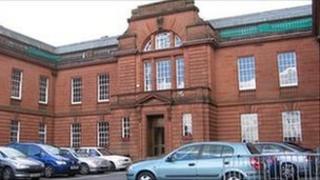 Labour and the SNP have formed a new administration on Dumfries and Galloway Council after seven Conservatives resigned from their group.
That move left the Conservative-SNP alliance without an outright majority.
Labour councillor Ronnie Nicholson has taken over the role of council leader from Ivor Hyslop, who had been in the post for six years.
The SNP's Brian Collins will continue as deputy leader, as he did in the previous administration.
The events were triggered by the resignations of seven members of the Conservative group, citing a "loss of confidence" in Mr Hyslop.
However, that claim was dismissed by colleagues who remained loyal to the former leader.
They claimed the move had more to do with the leadership aspirations of Ian Carruthers, who led the resignations.
Mr Hyslop said he had tried to work with other political groups during his time in charge.
He added that he believed the authority had made "good progress" under his leadership.
However, he said he accepted he now had to step down in order for the authority to move forward.
"We no longer have a mandate to lead this council," he said.
"It has been an honour and a privilege to be leader of this council."
Mr Collins said it was a matter of "deep regret" that matters had reached this point and paid tribute to Mr Hyslop's work as leader.
Labour group leader Mr Nicholson was then nominated and appointed to the role of council leader.
"My sincere thanks to Ivor for his time as leader," he said.
"I am not going to pretend we did not have fundamental political differences.
"But I hope I can show the same level of dedication to the people of Dumfries and Galloway that you have shown."
Local economy
He said it was "a great honour and a great responsibility" to take over as leader.
"Our council faces a huge number of challenges - our economy is in a deeply perilous place," he added.
"The council I lead will make building our local economy our number one priority.
"This will be an inclusive council in which all members will be invited to bring their ideas to the table."
Decisions have yet to be made on the political make-up of a number of other key council roles.