Joanna Lumley stars at start of Wigtown Book Festival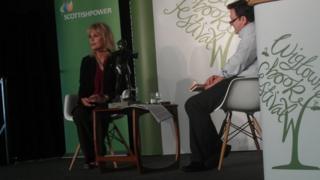 Actress and campaigner Joanna Lumley has kicked off the opening weekend of the Wigtown Book Festival with tales of her "intensely long life".
The festival runs until 6 October in Scotland's national book town.
Ms Lumley said she was "terribly touched and flattered" that people would turn out to sit and listen to her "roaming on".
She has also given her backing to a campaign to create a centre for children's literature in Dumfries.
The talk by the star of Absolutely Fabulous was a sell-out event on Saturday.
"I do love it," she said. "I love talking to people and I love sharing with them the excitement and ridiculousness of my own life.
"I love taking questions from the floor - people intrigued by some of the things I have been lucky enough to do.
"I am as old as Methuselah," she joked. "So ask me it, I was there!".
Festival director Adrian Turpin said she Lumley proved a big attraction at the event - even if that had caused some unexpected problems.
"There was one point where we actually ended up stopping the traffic as Joanna Lumley came out and people were taking pictures with their mobile phones which doesn't usually happen at book festivals - or in Wigtown," he said.
He added that there were a lot of good events to come.
"I think it is a strong programme this year - especially the midweek that we have particularly worked on building up," he said.
"The range of subjects is part of the festival - people always ask you about the names who are attending but it is also what people are talking about."