Prospect of housing near Abbotsford House returns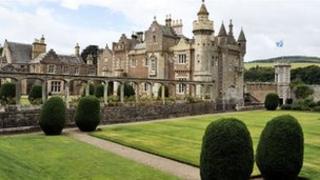 Land near Abbotsford House has been put on council draft plans for potential housing sites - despite homes being ruled out at an inquiry six years ago.
Campaigners fought a lengthy campaign to stop construction at Netherbarns.
However, Scottish Borders Council has now listed the site across the River Tweed from Sir Walter Scott's home as one for possible development.
Planning officials say Historic Scotland has withdrawn its objections and Galashiels may need to expand.
Pressure group Save Scott's Countryside, led by former Borders councillor and Borders Party leader Nicholas Watson, headed opposition to the housing plans.
They were finally rejected in September 2007 after a Scottish government inquiry.
A year later, the land was included on a list of potential sites for new schools but those plans have never progressed.
Now the latest draft local plan has raised the prospect of housing being built there once again.
The Borders Party remains opposed to any such move and Councillor Sandy Aitchison said the landscape in the area must remain untouched.