Dumfries Theatre Royal overhaul approved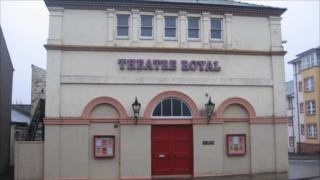 A £2m project to overhaul Scotland's oldest working theatre has secured planning permission from councillors.
The Theatre Royal in Dumfries was saved from closure by a charitable trust a little over two years ago.
Ambitious plans using adjacent properties in order to provide better access and facilities have already secured financial support.
Planning committee members gave their unanimous backing to the project to enhance the building.
It is hoped the proposal will allow the creation of a specialised rehearsal area, a more welcoming foyer and enhanced bar and food facilities.
Another aim of the theatre owners, the Guild of Players, is to expand youth involvement.
Earlier this year the Heritage Lottery Fund gave the project development funding which could pave the way for a grant of more than £280,000.
Dumfries and Galloway Council also freed up £455,000 held in reserves to help fund the scheme.
The Theatre Royal was built in 1792 and included Robert Burns among its original patrons.