Scottish Borders education shake-up meeting held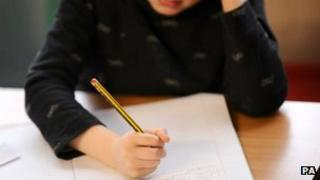 School staff in the Borders have been briefed about the start of an education shake-up aimed at making £11m of savings in the next five years.
The briefing was given to head teachers, teachers, classroom assistants, administration staff and janitors across the region.
Teaching unions have said they believe cuts are inevitable in the process.
The region's education director said there was "nothing sinister" in the briefing and nothing had been decided.
Education director Glenn Rodger said: "I can categorically state that this is simply the start of the process of transforming the way we deliver education and that we thus have, at this stage, no specific proposals.
"These will emerge over the next five years and the simultaneous briefing signals our commitment to ensuring full engagement and consultation with our staff over that period as we strive together to reconcile the budget reductions with maintaining and enhancing the highest standard of educational provision."
However Watson Crawford, the Borders secretary of teaching union the Educational Institute of Scotland, believes cuts cannot be avoided.
He said: "Cuts are going to take place, although details have not been revealed yet.
"It is a vicious circle - the UK government makes cuts, then the Scottish government makes cuts, and the local council also has to do it - it is the only way to balance the budget.
"The cuts will have a serious effect on the quality of provision within the Borders."